For the past couple pf years, I have had my mind on
this dessert
, to make for MY Birthday. Every year I was sad that I hadn't tried it yet, until THIS year! I decided I
had
to make it. Of course I changed a few things and made my own ladyfinger cookies (from a cookbook blog review). I let this sit overnight to have for my "birthday cake" the next day. It was GOOD! Why did I wait so long to make this? Happy Birthday to me!
Tiramisu
adapted from
gastronomers guide
4 large pasteurized eggs, separated
1 cup plus 1 tablespoon sugar
16 ounces mascarpone cheese
1-1/2 cups brewed coffee, cooled
3 oz. espresso, cooled
1 tsp vanilla
40 store-bought ladyfingers
( *GF homemade recipe)
1 cup heavy cream
cocoa powder
bittersweet chocolate
In a large bowl, beat egg yolks and cup of sugar until light and fluffy. Stir in mascarpone until incorporated.
In a stand mixer fitted with the whisk attachment, beat egg whites until soft peaks form. Fold in beaten egg whites into mascarpone mixture.
In a small bowl combine coffee, espresso and vanilla. Dip ladyfingers into coffee mixture (2-3 seconds) and lay in rows in the bottom of a 9-by-13-inch dish. Spread half of the mascarpone cream on top. Dust with cocoa powder. Make one more layer of ladyfingers and the remaining mascarpone cream.
In a stand mixer fitted with the whisk attachment, beat heavy cream and tablespoon of sugar until stiff peaks form. Spread whipped cream on top.
Dust with cocoa powder and garnish with grated and/or shaved bittersweet chocolate. Refrigerate for at least 2 hours, preferably overnight.
*UPDATED to include gluten free style
you can find me sharing this at: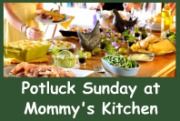 *please note all product reviews and giveaways are posted here now
http://ldylvbgr.blogspot.com/
Follow my new recipe url so you can get all the latest goodies!
enjoy,
Rachelle