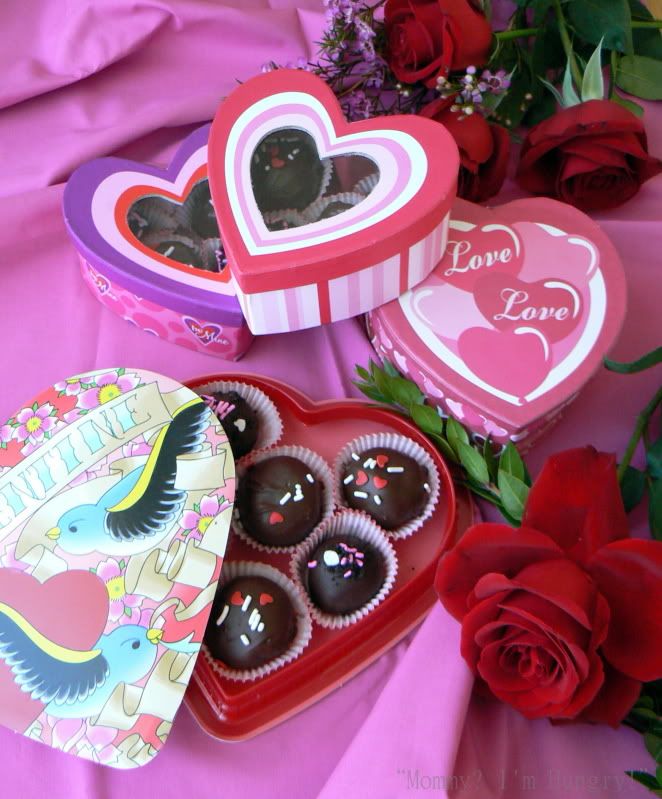 Happy Valentine's Day! Here are some sweets I dipped up for my Sweets! Oreo and cookie dough truffles! Mmm! I boxed them up in little heart shaped boxes and wrappers. (the bird candy box was a clearance candy box once year, I just cut out the candy shape holders to place my own in it)
Cookie Dough Truffles
Paula Deen
1/2 cup butter, softened
3/4 cup firmly packed brown sugar
1 teaspoon vanilla extract
2 cup all-purpose flour
1 (14-ounce) can sweetened condensed milk
1/2 cup semisweet mini chocolate morsels
1 1/2 lb chocolate bark candy coating, melted
(I used a bag of bittersweet chocolate chips)
In a large bowl cream butter and brown sugar with an electric mixer at medium speed until creamy. Add vanilla. Gradually beat in flour and add milk. Add chocolate morsels and pecans, mixing well. Shape into 1-inch balls. Place on waxed paper; chill 2 hours.
*Cook's Note: Since the dough is sticky, roll your fingers into flour. This will make it easier to roll.
Melt chocolate bark candy coating in a double boiler. Using 2 forks, dip cookie balls into melted chocolate to cover. Place on waxed paper and chill to set. Store in the refrigerator for at least 1 hour.
Servings: 5 dozen truffles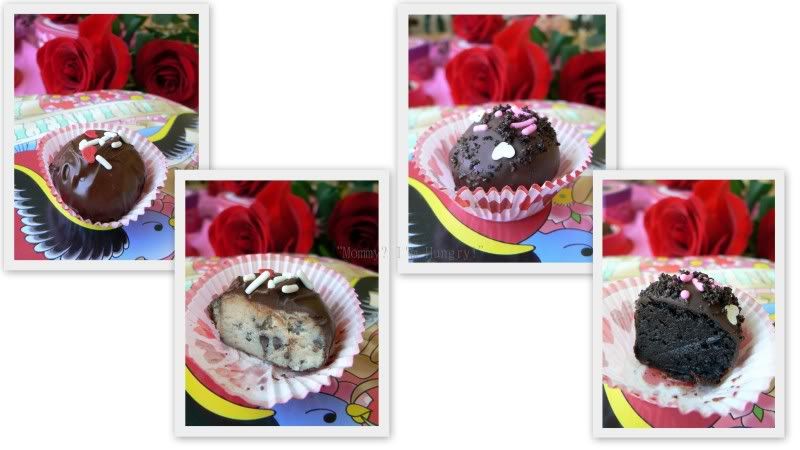 Oreo Truffles
Bakerella
1 package oreo cookies (divided… use cookie including the cream center)
1 8oz. package cream cheese (softened)
white chocolate bark
(I used 14 oz dark chocolate)
1. Finely crush 7 cookies in a food processor or place them in a ziploc bag and crush into a fine consistency. Reserve for later.
2. Add remaining cookies and softened cream cheese to a food processor and pulse until combine.
3. Roll the mixture into 1″ balls and place on wax paper covered cookie sheet.
4. Melt chocolate as directed on the package and then dip balls into chocolate, tap off extra and set aside on wax paper covered cookie sheet to dry. You can sprinkle the tops with the 7 crushed cookies for decoration.
5. Once dry, refrigerate and enjoy!
Makes about 36 truffles.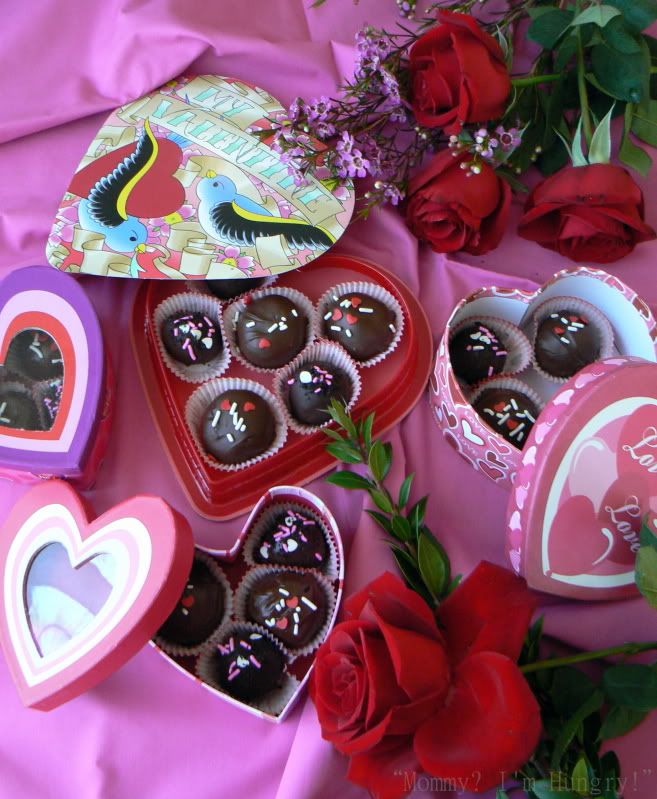 ~Follow my new recipe url so you can get all the latest goodies!~
enjoy,