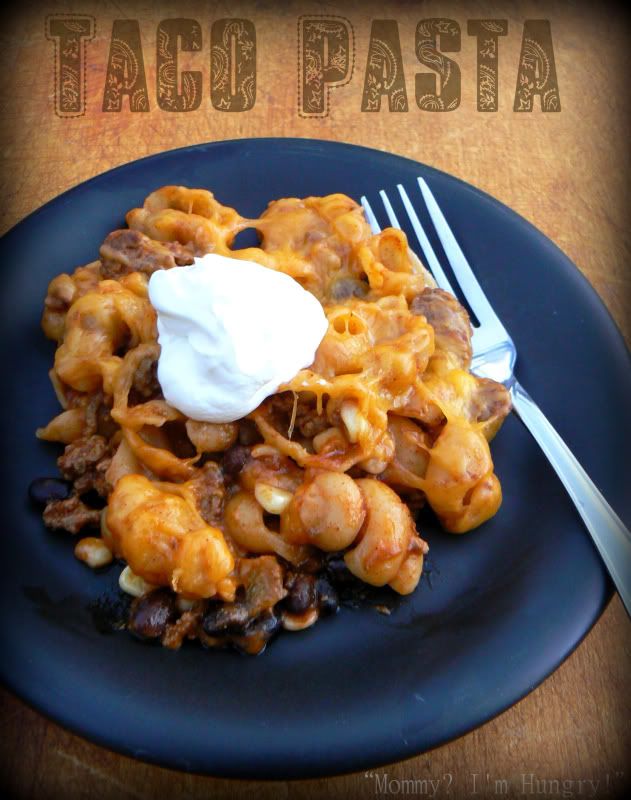 "Mommy? I'm Hungry!" It's near dinner time! What are you making?
I saw this dish at one of the first food blogs I ever came across. It sounded delish, and something the kids would eat (it's been a rough couple weeks of recipe flops lately). I was right, they liked it! I used a Gnocchi shaped pasta and I added in some black beans and corn for good measure with a dollop of sour cream.
Taco Pasta
slightly adapted from
Full Bellies, Happy Kids
1 pound ground beef
1 package (1-1/4 ounces) taco seasoning
1 can (15 ounces) tomato sauce
1 package (8 ounce) shell macaroni, cooked and drained, reserve 1 C. pasta water
1 can (4 ounces) chopped green chilies
1 Cup canned black beans, drained, rinsed
1 Cup frozen, thawed corn
1 1/2 cups shredded cheddar cheese
In a skillet, brown ground beef over medium heat. Drain and add taco seasoning, tomato sauce, green chilies, beans and corn. Stir in 1 Cup pasta water to thin it out. Stir in cooked macaroni. Place in a 9×13 pan. Top with cheese. Bake at 350° for 30 minutes or until heated through.
sharing this with
~Follow my new recipe url so you can get all the latest goodies!~
enjoy,