I've been buying pork roasts from Costco a lot lately, they feed us well, are cheap (when you buy the big bag of like 5 roasts) and they can be done many ways. The day before I was going to roast one, I saw this recipe posted on Facebook. I ran in and put it together. This was going to be dinner instead! I love trying new recipes, and since this was really good, I've got to share it here. This is my
Flavorful Friday
post!
Skinny Slow Cooked Pernil (Puerto Rican Pork)
directions adapted from
Gina's Skinny Recipes
3 lb pork shoulder blade roast, lean, all fat removed (I used pork loin roast)
4-5 cloves garlic, crushed
1 tbsp coarse salt
1/2 tsp oregano
1/2 tbsp cumin
1/4 tsp crushed black pepper
3 oranges, juice of (1/2 cup)
2 limes, juice of
Using a sharp knife, cut slits into the pork and stuff holes with half of the crushed garlic. Combine the remaining ingredients and pour over pork and place in a large zip lock bag, overnight in the refrigerator.
Add pork roast and contents of bag into the crock pot and cook on low, 8 hours.
After 8 hours, remove pork and shred using two forks. Remove liquid from crock pot and add pork back to crock. Add about 1 cup of the liquid back and adjust salt, pepper and cumin, if needed. Let it cook another 15-30 minutes.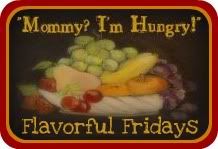 If you'd like to share a
Flavorful
dish, and I hope that you do, please use my button on your post and link up below (please link directly to the recipe). I look forward to seeing your recipes and perhaps finding something new to make for my family! = )
~Follow my new recipe url so you can get all the latest goodies!~
enjoy,